The Attraction of Wales


For businesses and organisations seeking to combine a business conference or event with leisure and recreation, Wales has unique attractions.
There is so much to offer - stunning mountain scenery, beautiful lakes and rivers, breathtaking heritage coastline and modern cities offering superb shopping centres and entertainment - and all within a compact country which you will appreciate to the full.
Cardiff
Less than a ten minute drive from the University of Glamorgan and within easy travelling distance of all major cities. Cardiff the capital city of the principality has everything to make your visit worthwhile.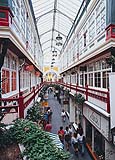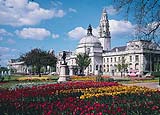 Voted best value for money amongst major European cities, its world famous civic centre, museums and galleries attract spectacular exhibitions and cultural activities. You can also enjoy shopping in Cardiff's unique Victorian shopping arcades.
Caerphilly Castle

Close to the University you will find one of Wales' many castles - Caerphilly. This beautiful concentric castle built in 1268 is the biggest in Wales and is famous for its leaning tower.
Rhondda Heritage Park
This 'show' mine allows you the experience of going underground and depicts the Welsh mining community at the beginning of the twentieth century. See the changes over the years and the hardship endured by the mining families. Your guide, a former miner, adds his colourful anecdotes of life underground.
There are many other exiting places to visit throughout Wales. The following addresses may be useful: